ACTUAL and UNICEF are working together to build tools that will help determine technologies, costs, and other variables needed to connect a school — and measure its community impact.
The COVID-19 pandemic has created the largest disruption of education systems in history, affecting nearly 1.6 billion learners in more than 190 countries; school and learning space closures have impacted 94 per cent of the world's student population. And, even before the pandemic, there were 3.6 billion people in the world without access to the Internet. This disruption in learning – especially those with pre-existing disparities in education and access – threatens to erase decades of progress, as closures of educational institutions hamper the provision of essential services to the entire community. The promise of future learning and living needs innovation and the internet to deliver quality education and services. 
How much will it cost to connect a school to the internet? How much bandwidth does a school need and what technology is best suited to deliver it? What will it cost to keep that school connected? And how will connectivity impact the community around that school?
ACTUAL and UNICEF are partnering to develop an open-source model that estimates the answers to these questions, and more. This work is a foundational component supporting Giga, an initiative that aims to connect every school in the world to the internet. Giga was launched last year and led by UNICEF and the International Telecommunication Union (ITU).
There are hundreds of thousands of schools that lack internet connectivity, and they need to be brought online over the next several years to bring information, opportunity, and choice to young people everywhere. Every school is unique. The terrain surrounding each school drives the available communications options. The reliability of local electric service and the local weather drive choices around electric power design. Secondary schools need more bandwidth than elementary schools, and the local community may use the school as a hub too. 
ACTUAL and UNICEF are working together to build tools to perform this individualized school-level analysis in a scalable way. These tools will help determine the technologies that need to be installed at a school, upfront and operational costs, community impacts, and other key variables.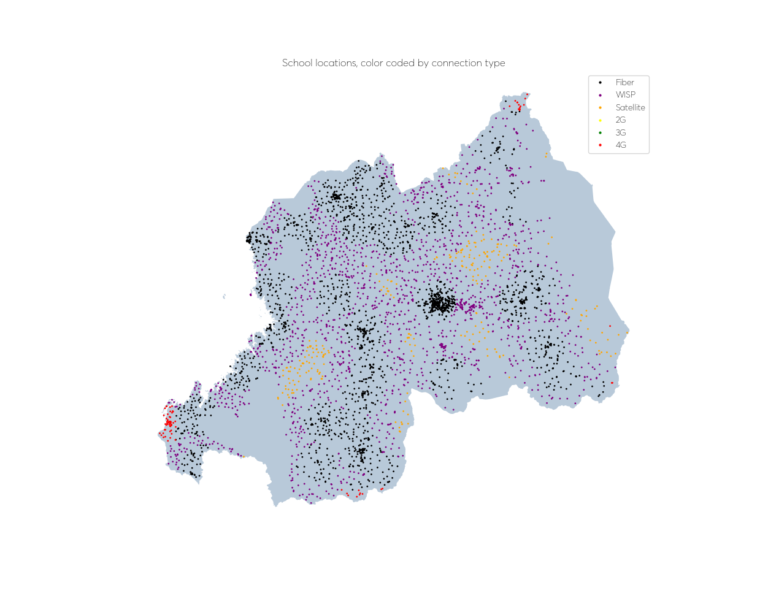 While we have spent significant effort in building these models and validating them with experts, we are also humbled by the complexity of the on-the-ground reality. As schools are brought online, we'll be working diligently to monitor usage, track costs, and impacts of connectivity on educational outcomes. This data will help close the loop and refine our modeling efforts as we scale connectivity from hundreds to thousands, and from thousands to hundreds of thousands of schools over the next several years, to scale meaningful access to millions of young people and their communities. The team will continue working together over the next several months to expand this analysis over additional countries, in service of connecting every school on Earth to the internet.
Stay tuned as we dive deeper into specifics of the models, connectivity and power technology, and how we decide the best strategy for bringing each school online in the coming months.
About UNICEF:
UNICEF promotes the rights and wellbeing of every child, in everything we do. Together with our partners, we work in 190 countries and territories to translate that commitment into practical action, focusing special effort on reaching the most vulnerable and excluded children, to the benefit of all children, everywhere.
For more information about UNICEF and its work for children, visit www.unicef.org.
Follow UNICEF on Twitter and Facebook
About ACTUAL:
ACTUAL gives infrastructure originators, investors, and other stakeholders confidence as they model and track the cost, impact, and outcomes of sustainable and net-zero infrastructure projects. Visit www.actualhq.com or contact us to learn more about how our digital-twin based models can help unlock new savings and revenue streams for your projects.
Follow ACTUAL on Twitter and visit our blog to learn more about our other projects and perspectives.
About Giga: 
Some 3.6 billion people in the world do not have access to the Internet. The lack of access to the internet means exclusion, marked by the lack of access to the wealth of information available online, fewer resources to learn and grow, and limited opportunities for the most vulnerable children and youth to fulfill their potential. Closing the digital divide requires global cooperation, leadership, and innovation in finance and technology. 
Giga is a UNICEF-ITU global initiative to connect every school to the Internet and every young person to information, opportunity and choice. Connect with us by visiting https://giga.global and following us on Twitter.