In coordination with UNICEF Honduras and the Ministry of Education, Giga has launched a pilot project to connect 24 public schools in 7 departments of Honduras to the Internet. Telecommunications company América Móvil (Claro) will provide the Internet connectivity for an initial two-year period.
While primary school enrollment is high in Honduras, a persisting challenge is the provision of quality education. Connectivity can help address this by giving students access to online learning opportunities and the opportunity to develop digital skills. But of the over 16,408 schools on Giga's Project Connect map, only 6% have access to the Internet.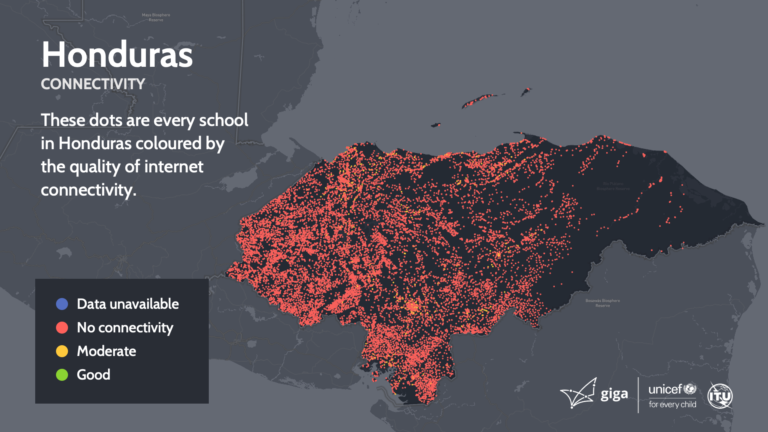 A report by Boston Consulting Group (BCG), as knowledge partner for Giga, on Meaningful School Connectivity identified four priority areas for increasing school connectivity levels in Honduras. These were: 1) upgrade rural areas coverage; 2) upgrade existing coverage; 3) increase affordability; and 4) electrification of schools (44% of schools do not have electricity).
This pilot project will explore solutions to these challenges. It will build on existing progress – for example, Honduras has added to its national fiber backbone in recent years and 70% of the population now live within a 25km range of the network.
It will also add to Giga's previous work in Honduras. Using satellite imagery, Giga has helped identify 1,097 schools that were not part of official government registries. Giga and its partners have also connected 545 schools and around 60,000 students to the Internet.
The experience from this pilot project will inform and lay the foundation for school connectivity rollout at scale. It will also help develop ways of using schools as hubs to distribute high-speed connectivity to their surrounding communities. The emphasis will be on providing affordable, sustainable Internet access so that children and young people across Honduras have the chance to benefit from the information and opportunities available online.