"Computers classes are my favorite! That's the only time I feel connected to the rest of the world and it's fun because we do a lot of things independently," says Orateng.

Orateng Mothowamadi is a 15-year-old student at Tshwaragano Junior Secondary School in Maun and among 370,000 students who have benefitted from a connect the school initiative driven by the Government of Botswana in collaboration with UNICEF and Giga. Through the SmartBots and Giga initiative, schools are connected to high-speed internet in an effort to strengthen online learning and the bridge digital divide.
Orateng's excitement is shared by her school Principal, Lynette Setumo who says that strong internet connectivity has improved efficiency in her school because they no longer experience internet cuts.
"It has also strengthened communication within the school environment and with parents," she says.
Leseka Mukokomani, an Education Specialist in our Botswana office, believes that the initiative will go a long way in bridging the digital divide and ensuring that children from less privileged communities are not left behind.
"Currently over 600 schools are connected, but we still have a long way to go," she says. "Over 400 schools are not yet connected and most of these are in hard-to-reach areas where there is no infrastructure. We need to double efforts to avail gadgets in schools that already connect to the internet."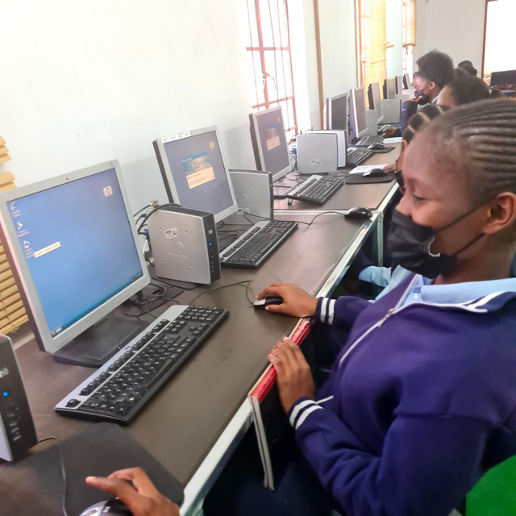 Adding, "Both teachers and students need to be trained on safe internet use…online teaching requires a different skill set; therefore, we need to build teacher capacity."
The program also connects students in settlements and hard-to-reach areas. Teachers and students at Somelo Settlements no longer have to travel to Maun to connect to the rest of the country. Internet access has made it easy for teachers to research and prepare their lessons. In addition, the Ministry of Education and Skills Development has procured tablets and in the coming weeks, students will be taught how to operate them.
Community members are also benefitting from the new connectivity to the internet.
"We have opened it to community members so that they uplift their lives," says SmartBots Project Lead, Isaac Kgoromola. "So, we are not just connecting students, we are connecting communities too."
As the Government of Botswana accelerates efforts to provide devices for learners and teachers; e-content, and capacity building for the teachers, UNICEF will continue to work with the Government and other Partners to resource mobilize to ensure internet connectivity in every school in the nation.
Giga initiative was launched by UNICEF and ITU to connect every school to the Internet and every young person to information, opportunity, and choice.
Working with corporate and non-profit partners, Giga maps schools' Internet access in real-time, creates models for innovative financing, and supports governments contracting for connectivity.