Giga supports governments by providing procurement advice and documentation for sourcing meaningful and affordable school connectivity. Here are the key requirements for Internet Service Providers (ISPs) to take into consideration when participating in competitive bidding processes: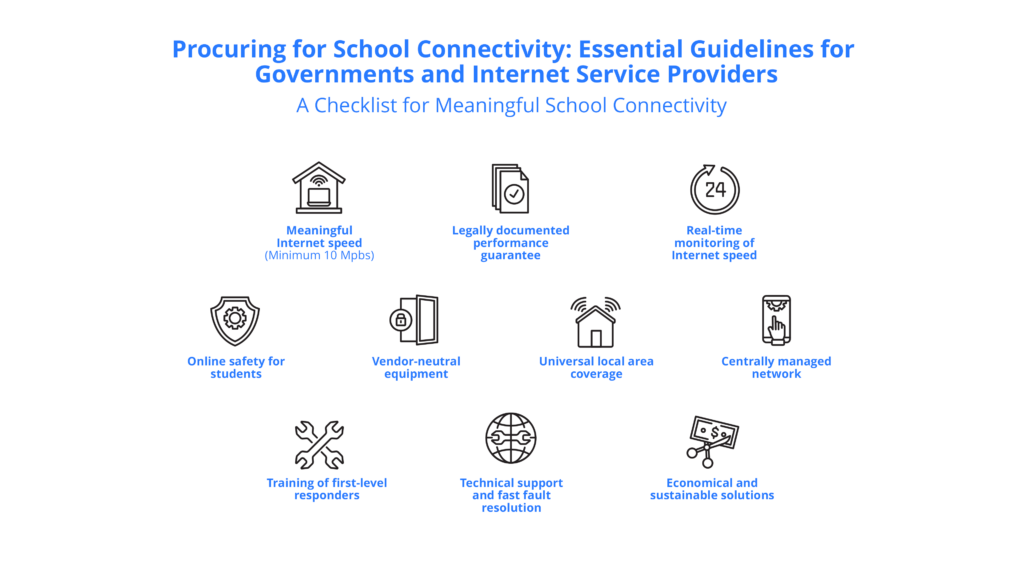 To connect every school in the world to the Internet, Giga helps governments secure Internet services for schools through competitive bidding processes. Procurement processes are conducted in accordance with governments' procurement policies and are divided in three major milestones:  
Pre-contracting stage:

Market capacity assessment, need definition based on

Project Connect

's school mapping, and sourcing

 

Contracting stage:

Tendering and awarding of contract(s)

 

Post-contracting stage:

Contract implementation, real-time monitoring of connectivity, and contract management

 
 Upon conducting a market capacity assessment, Giga provides governments with the following documentation: 
Terms of Reference (ToR) and annexes;

 

Model Contract template;

 

Service Level Agreement template (SLAs)

 

Key Performance Indicators (KPIs);

 

Project acceptance checklist;

 

Other supporting documents.

 

 
We encourage ISPs to participate in competitive bidding processes launched by national governments, based on a specific set of guidelines that meets the needs of schools. These guidelines are designed to provide meaningful and affordable Internet connectivity for schools. Learning from our experience of connecting more than 5,600 schools worldwide, we have prepared the following list of requirements that constitute the backbone of the model contracts that Giga recommends governments to sign with ISPs. 
10 requirements for ISPs in Giga's model contracts: 
1. Meaningful Internet speed. When procuring for connectivity, Giga recommends at least 20 Mbps of dedicated download speed, following a ratio of 1 to 4 with respect to upload speed (i.e., 5 Mbps upload speed for 20 Mbps download speed). In cases where this target is too difficult or expensive to achieve, Giga recommends an absolute minimum of 10 Mbps. ISPs are required to provide reliable and quality high-speed internet connectivity services. When necessary, ISPs are requested to extend the existing backhaul, provide indoor and outdoor access points, and supply bandwidth according to the following service levels:

Meaningful connectivity means fast and reliable Internet that enables students to download educational materials, watch videos, and participate in online activities including video calls.
2. Legally documented performance guarantee. Through legally binding documents signed as part of the contract (such as Service Level Agreements or SLAs), Giga and its government partners can track the performance and service quality of the vendors according to Key Performance Indicators (KPIs) defined in their contracts. This is beneficial for both parties as it prevents miscommunication and mitigates risks. Giga's model contracts incorporate the following KPIs to ensure the quality of Internet services:
Minimum upload and download speeds measured in megabits per second.

Latency or "ping", which measures the time it takes for the computer, the Internet, and everything in between to respond to an action such as clicking on a link. Reduced or low latency is better.

The availability and reliability of Internet connection measured in uptimes (more is better) and downtimes (less is better).
Service Level Agreements cover all components of installing a network and providing reliable Internet services. Providers are asked to report compliance against those pre-agreed service agreements monthly. The SLA also establishes a way to calculate the KPIs and the target level of service. For example, providers could be asked to maintain an aggregated monthly availability of the service for all sites above 98%, and if the contractor fails to achieve this target, the SLA establishes the penalty equivalent to the percentage of the outage. The SLA also defines how penalties are calculated and how they should be reflected on the monthly billing cycle. This makes a fair and transparent process for the provider and ensures governments pay for a level and quality of service provided to schools.
3. Real-time monitoring. To ensure schools receive the correct level of bandwidth services specified in the ISP's contracts, Giga provides governments with the ability to monitor connectivity speeds in real-time through the Project Connect Daily Check App. The app, which is recommended for ISPs to install, measures the quality of connectivity and speeds experienced by students, which is then reported in real-time via the Project Connect map (example of real time monitoring of schools in Brazil).
ISPs are also recommended to provide access to their Network Management Systems (NMS) through an API that can be connected directly to Project Connect and Giga's contracting management tools. Through real-time monitoring tools and the SLAs, Giga can help governments implement pay-by-performance contracts with ISPs.
4. Online safety for students. Connecting schools to the Internet gives access to children to information, but it also exposes them to threats like access to harmful content. This is why Giga's model contracts requires ISPs to implement content filtering solutions in the network and transport layers to protect students from accessing inappropriate content. In line with child online protection (COP), the requirement is to have a central firewall for all the connected schools with web filtering services that will control content, filter content based on the threats (malicious websites or inappropriate for children listed in national or international reporting portals like IWF). When proposing measures for safe navigation, providers should follow the ITU Guidelines on Child Online Protection, together with the following minimum technical requirements:
Proactively block access to web addresses known to contain inappropriate and harmful content.

Protect against loss of personal data and/or unauthorized manipulation of data.

Block harmful or inappropriate advertising online.

Allow or utilize time blocking controls with block/allow listing capabilities.

Include age-verification for some sites.

Produce threat analytics and reporting, among others.
Ideally, the above measures can be applied at different levels including: the global (entire network) cloud, WAN network, and local/site levels. This ensures proactive responses and filtering rules can be applied not only at the site level, but also to all schools at the entire network, and their respective local school networks.
5. Vendor-neutral equipment. Giga recommends the issuance of vendor-neutral equipment, which can be used even after service contracts have expired. Equipment such as modems and satellite dishes should not be locked into specific providers so they are compatible with other vendors, with little or no change to the equipment unless an upgrade is required. This reduces costs related to decommissioning and reinstallation activities.
In addition, Giga recommends that providers assess and deploy appropriate power and surge protection to all installed equipment. To ensure non-interruption of internet services, providers contracted to replace damaged equipment at schools during the tenure of the contract.
6. Universal local area coverage. Teaching and learning occurs in different areas, not just at the computer laboratory, where students typically use the Internet. Imagine if students could access science videos while doing experiments at the chemistry laboratory, or if they could access government reports while a debate session is being held at a multi-purpose hall. The Internet could contribute to a feature-rich learning experience if all areas of the school have optimal Internet coverage.
When procuring connectivity, Giga recommends the provision of wired-LAN integration through access switches in instances where wired-LAN exists, and to install Wi-Fi access points with a minimum 100-meter omni-directional coverage, supporting at least 200 minimum concurrent users. All access points, indoor and outdoor, must support and transmit dual band frequencies at 2.4 Ghz and 5 Ghz, and all network devices as access points and switches must be PoE capable. The system must also allow multiple or different SSID configuration and broadcasting, with SSID management capabilities like hiding, bandwidth allocation, among others.
7. Centrally managed network. Schools do not always have their own full-time technical staff who can support tackling network issues. To manage this risk, Giga recommends ISPs to implement a centrally controlled network with remote administration capabilities. This will ensure that faults, alerts, and other critical system errors are proactively responded to, even if a school does not have dedicated technical staff.
8. Training of first-level responders. What happens when the Internet service is disrupted during a class or an exam? To respond better to possible disruptions like these, Giga recommends ISPs to provide basic information and communications technology (ICT) training for school staff. In our model contracts, we ask providers to deliver training on the installed connectivity solution to at least two teachers for each connected school – ideally the head teacher and the school's ICT focal point.
9. Technical support and fast fault resolution. Meaningful Internet connectivity means that it must be always reliable and available. With this, ISPs are requested to provide a proactive and robust fault resolution strategy, backed by key technical support for close assistance when schools encounter issues. ISPs are required to assign a dedicated point of contact to address technical issues within the agreed Service Level Agreement. They are also required to establish an escalation matrix with the resolution teams, including specified response times for different types of problems.
10. Economical and sustainable solutions. Giga recommends ISPs to offer solutions that consider the local context. The technologies to be deployed should be adapted to the socioeconomic environment of the communities where schools are located, to ensure affordable and sustainable service fees and costs – both in terms of upfront costs (capital expenses, or Capex), and ongoing monthly costs (operating expenses, or Opex). When proposing innovative solutions and specific technologies to connect schools, Giga requires ISPs to consider the disposable income and willingness to pay of the communities where schools are situated.
Internet Service Providers and companies in the communications and technology sector are encouraged to participate in school connectivity competitive bidding processes, taking into account the above-mentioned key requirements.